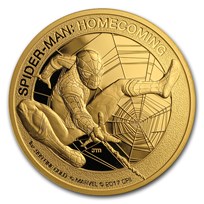 As Marvel Comics #1 character, Spider-man is back again! This 1 oz Spider-Man: Homecoming Gold proof was issued by the Cook Islands and carries a very lim...
Learn More
Marvel Comics
APMEX carries a wide variety of products featuring designs from the Marvel Cinematic Universe. Including favorites such as,
Venom, Spider-Man, Guardians of the Galaxy, Doctor Strange, Black Panther
and more. These designs are officially copyrighted and trademarked by Marvel Comics along with the production house of the respective movies. These detailed coins are perfect for any aspiring superhero.