1/4 oz American Platinum Eagle Coins (Proof)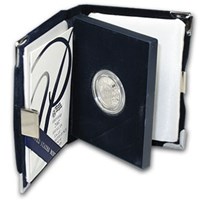 This 1/4 oz Proof Platinum Eagle is complete with the mint issued box and a certificate of authenticity. A mintage of only 6,017 coins adds to the collecti...
Learn More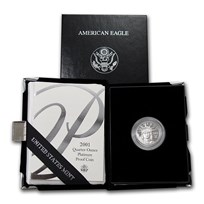 Proof Platinum Eagles change reverse designs yearly adding collectibility to the beautiful coins! This fractional size eagle is the perfect addition to any...
Learn More

The Proof Platinum American Eagle features a patriotic design of the Statue of Liberty. This fractional issue comes in a U.S. Mint-issued display box with ...
Learn More
1/4 oz Proof Platinum Eagles
APMEX offers 1/4 oz Proof Platinum American Eagles to add to your collection. Proof coins are struck on specially prepared planchets multiple times to provide a unique finish that collectors desire. The dies used in this process give the coins a mirror-like appearance, in which the coin's device appears to be floating over the liquid of the field. The Platinum American Eagle is the only investment-grade Platinum coin from the United States Mint. It is also the only bullion coin the U.S. Government guarantees for weight, content, and .9995 purity. The 1/4 oz Platinum American Eagle has a $25 face value.

The obverse features the Statue of Liberty, a symbol of freedom to the United States and all who see her. The reverse design changes annually. Usually depicting an American eagle in various settings, the reverse designs have also included other images, including tributes to American government and democracy. Although they change each year, the designs always celebrate the strength and security of the United States.
PCGS & NGC Certified 1/4 oz Platinum Proof Eagles
APMEX carries a selection of certified 1/4 oz American Platinum Eagle Proof Coins. These stunning Platinum Proof coins have been graded by industry leaders, PCGS and NGC. The grade adds to the collectible value of these beautiful Proof coins from the U.S. Mint.