Platinum Coins from Switzerland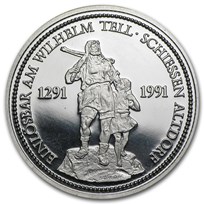 The Swiss Platinum Shooting Thaler was minted to commemorate one of the Schützenfest or free shooting tournaments held in various cantons within the Swiss ...
Learn More
Platinum Coins from Switzerland
APMEX carries a selection of Platinum coins from Switzerland. This central European country is known for its neutrality - the Swiss have not been in a state of war internationally since 1815. Perhaps related, Switzerland is often ranked at or very near the top of many lists, including life expectancy, tourist competitiveness and quality of life.
Platinum Coins for Sale
APMEX has a wide selection of
Platinum coins for sale
, including these stunning Swiss Platinum coins.