Engelhard Palladium Bars & Rounds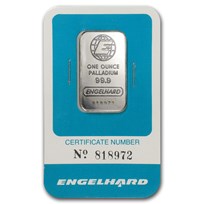 These 1 oz Palladium Engelhard bars are increasingly rare, making them a favorite of investors. Update your portfolio with this top-of-the-line Palladium b...
Learn More
Engelhard Palladium Bars and Rounds
Containing Palladium with a .9995 fine purity, Engelhard Palladium bars or rounds are the perfect way to purchase this scarce and desired metal.