All Silver Dollars (1794-1978) Products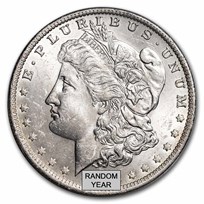 As low as $51.99 per coin over spot
Despite their age, these coins are still in beautiful Uncirculated condition and showcase their proud place as a piece of American history. Hold a piece of....
Learn More
Volume Discount Pricing
Quantity
Check/Wire
CC/PayPal
1 - 19
$52.99
$55.20
20 - 99
$52.69
$54.89
100 - 499
$52.39
$54.57
500 +
$51.99
$54.16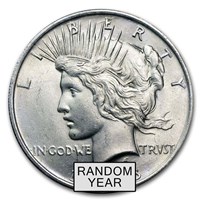 As low as $38.99 per coin
Peace Silver Dollars, one of the most recognized designs in American coinage, were originally issued to commemorate peace in the world after the end of WWI....
Learn More
Volume Discount Pricing
Quantity
Check/Wire
CC/PayPal
1 - 19
$39.99
$41.66
20 - 99
$39.69
$41.34
100 - 499
$39.39
$41.03
500 +
$38.99
$40.61
Silver Dollar Coins
Silver Dollars were an immensely useful general circulation coin produced by the United States Mint for more than 140 years and today are one of the most popular types of U.S. coins among collectors.
Bust Silver Dollars
were among the first minted and were only produced for a short time. This relatively small mintage means very few of these fascinating coins survived to be included in contemporary collections.
The second Silver Dollar struck by the United States Mint, the Seated Liberty Dollar, differed from its predecessor in that it remained in production for a long time — more than 30 years. Because of this extended period of production, this particular coin is generally fairly easy to obtain.
Heralded as best and most beautiful of all the Silver Dollar designs, the Morgan Silver Dollar was immediately embraced by U.S. citizens when it debuted in 1878. Production of this coin continued thorough 1904, when it was replaced by the Peace Dollar, but popularity was so high, the Morgan design was produced again for one year in 1921.
Considered one of the most famous examples of United States currency, Peace Dollars were minted from 1921 through 1935. Popular with collectors and investors alike, this series is significant because it was the last U.S. dollar coin intended for circulation struck from Silver. It was also the last series of dollar denomination coins in full-time production for more than 35 years, until the U.S Mint began production of the Eisenhower Dollar in 1971.
The Morgan Dollars and Peace Dollars both played an important role in American coinage. Morgan Silver Dollars are the most collected U.S. coin. This coin is particularly popular because of its design, place in history and culture when the U.S. Mint released the coins.