Eisenhower Dollars (1971-1978)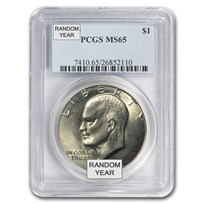 These coins were issued to honor the 34th President of the United States: Dwight D. Eisenhower. This issue is the last of the large sized Dollars issued fo....
Learn More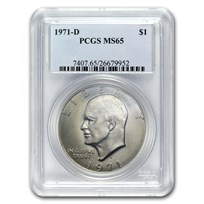 The Eisenhower Dollar, aka the Ike Dollar, was the first dollar minted after the Peace Dollar that was intended for circulation. Rarely do you see clad co....
Learn More
Who is on the Silver Dollar?
When you think of a Silver Dollar, you likely picture the Eisenhower Dollar. This is a one-dollar coin minted by the
U.S. Mint
between 1971 and 1978. The Eisenhower Dollar was the first dollar coin minted since the Peace Dollar series was discontinued in 1935. The obverse of the Eisenhower Dollar features the president's profile, while the reverse of coins from 1971-1978 depicts an eagle landing on the moon. In 1976, a
Silver Bicentennial
design was created with a new reverse for the Eisenhower Dollar featuring the full moon behind the Liberty Bell. .