Reeded Edge Half Dollars (1836-1839)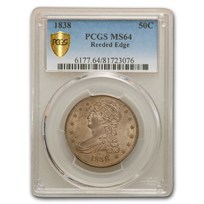 This 1838 Capped Bust Half Dollar (Reeded Edge) has been certified as MS-64 by PCGS, one of the top two coin grading services. This coin has a population o....
Learn More
Short Lived Half Dollar Coin Offers Great Value
Though the Reeded Edge Half Dollar coin was short lived, they provide collectors with great historical and intrinsic value. These coins were the first minted by using new technology and they set out to replace the widely popular Capped Bust Early Half Dollars.
Numismatic enthusiasts can select from the 1836-1839 Reeded Half Dollars Average Circulation or the 1836-1839 Reeded Edge Half Dollar Culls. Regardless of the selection made, these short-lived half dollar coins will provide every buyer a highly valued coin. Half dollar coins are one of the most important U.S coins because of its importance to coinage history.