Franklin Half Dollars (1948-1963)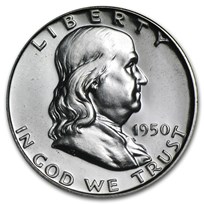 First year of mintage for the Proof Franklin Half Dollar! This Proof would make an excellent addition to your set!
Learn More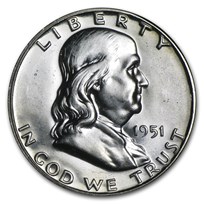 This 90% Silver 1951 Philadelphia Franklin Half Dollar is in Proof condition.
Learn More

In 1956, the Mint used two different reverses to strike Proof Half Dollars. The main difference is visible in the small eagle on the reverse and relates to
....
Franklin Half Dollars
Designed by Chief Engraver, John R. Sinnock brought about a couple of important changes to America's coinage. They marked the change of
U.S. coin
designs from allegorical figures to portraits of Americans of historical significance. Franklin Halves also marked the end of what is considered to have been the 'golden age of American coinage art'. Franklins are another series that is widely collected, as there are no rarities in the entire series.