Lincoln Memorial & Shield Pennies (1959-2020)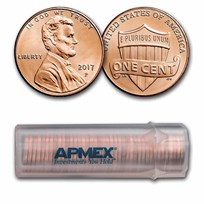 This roll of 2017-P Shield Cents bear the Philadelphia Mint mark to honor the 225th anniversary of U.S. coinage.
Learn More
Lincoln Memorial Pennies
APMEX offers a superb selection of Lincoln Memorial Pennies and Lincoln Bicentennials (2009). Lincoln Memorial coins were created to mark the 150th anniversary of Lincoln's birth. The wheat ears reverse was replaced by the Lincoln Memorial building, and the new Lincoln cent was released on February 12, 1959.