Armenia (Gold, Silver, Coins & Currency)
Top Picks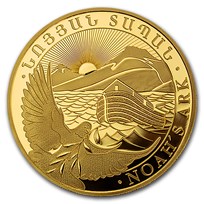 This is the second year that the Noah's Ark coin will be offered as a Gold BU coin. The mintage is only 25,000 worldwide.
Learn More
Gold Coins from Armenia
In this category, you will find Gold coins from Armenia. Armenia, officially the Republic of Armenia, is a sovereign state in the South Caucasus region of Eurasia. Located in Western Asia, it is bordered by Turkey to the west, Georgia to the north, the de facto independent Nagorno-Karabakh Republic and Azerbaijan to the east, and Iran and the Azerbaijani exclave of Nakhchivan to the south.