Ukraine Gold & Silver Coins & Currency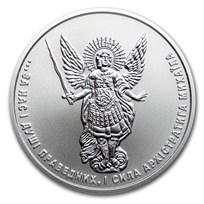 APMEXclusive®
Known for winning victory over evil, the Archangel Michael is exquisitely displayed on this 1 oz Silver coin from Ukraine. These low-mintage...
Learn More
Ukraine Gold & Silver Coins & Currency
The National Bank of Ukraine was established in 1992 as a way to ensure the stability of Ukraine's monetary unit. They also produce commemorative coins honoring a variety of people and subjects. Commemorative coins minted by the National Bank of Ukraine are produced in a variety of metals, but here you will find their high-quality Gold and Silver coins.