Year of the Rooster Products (Gold, Silver, Platinum & Palladium)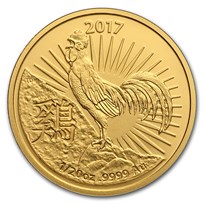 The rooster is celebrated by the Chinese for its symbolic properties of hardworking, loyal, honest and sociable. This stunning coin contains .9999 fine Gol....
Learn More
Year of the Rooster Products
The Chinese Lunar Calendar is one of the most popular themes for coins and rounds produced by countries around the world. These products are a perfect gift for anyone born in a rooster year: 1921, 1933, 1945, 1957, 1969, 1981, 1993, 2005 and 2017.