Saint-Gauden $20 Gold Coins
Saint-Gauden $20 Gold Coins
Saint-Gaudens $20 Gold Coin (1907-1933)
The St. Gaudens coin is easily one of the most beautiful Gold coins produced in the history of the United States Mint and is certainly among the most popular Gold coins on the market today. This Gold coin was produced by the U.S. Mint from 1907 to 1933 and is named after its renowned designer, Augustus Saint-Gaudens. The Saint-Gaudens $20 Gold coin was a direct result of President Theodore Roosevelt's dissatisfaction with the artistic merit of U.S. coinage.
President Roosevelt felt that Saint-Gaudens was the man who could help him beautify American coinage to the level of true art. Sadly, Saint-Gaudens passed away before the designs were finalized for production. The coin's high relief made the coin difficult to strike and Chief Engraver Charles Barber modified the design slightly, allowing it to be struck in a single blow.
Saint-Gaudens $20 Gold Double Eagle Values
Values commanded by Saint-Gaudens $20 coins vary significantly based on the coin's mint year and overall condition. For example, a 1907 Saint-Gaudens in good condition may sell for around $1,300, or close to the spot price of Gold. A 1908-S in pristine condition, on the other hand, could garner more than $8,600 on the open market.
If you have a Saint-Gaudens Double Eagle that seems to be in great condition, you may wish to have it professionally graded by a service such as PCGS or NGC. By having your coin graded by an expert, you will get a much better idea as to the coin's precise condition and fair market value. The grading process is intense, accounting for even the smallest imperfections in a coin. Grading services also validate the coin's authenticity and metal content.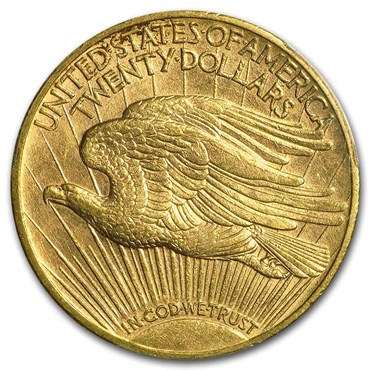 Saint-Gaudens $20 Coin's Value Depends on Condition
You can conduct a close examination of your $20 Saint-Gaudens Gold coin at home to get an idea of how your coin may be graded. This requires minute observation of an example detail. For instance, you may focus on the torch held by Lady Liberty. If the torch looks and feels smoothed out and significantly eroded, the coin is likely only in Good condition.
If the torch has only minor wear, perhaps from light circulation or casual storage, the coin may be in Fine condition. If the torch remains crisp, in specific relief with no damage or discoloration, then your coin could potentially be in Extremely Fine condition. All details must be similarly preserved for an overall condition and the coin's overall color should also be considered.
Finding Valuable Mintmarks
On a Saint-Gaudens Gold Double Eagle, the mintmark is located on the reverse, just below the date. "D" is for the Denver Mint, while an "S" indicates production at the San Francisco Mint. The other facility to produce these coins, Philadelphia, did not use a mintmark. The editions with mintmarks could potentially have higher values and you will definitely want to verify which location minted your coin.