Walking Liberty Half Dollars (1916-1947)
Walking Liberty Half Dollars (1916-1947)
Walking Liberty Half Dollars (1916-1947)
The Walking Liberty Half Dollar is one of the most beautiful and iconic designs to ever come out of the United States Mint. The evocative image of Lady Liberty gliding across the landscape against a rising sun is one that touches the heart of every American.
In addition to the coin's spectacular artwork, the length of this coin's run (from 1916 through 1947) means this coin is forever associated in the American psyche with World War I and World War II. Contemporary collectors are constantly striving to acquire these coins, though fewer and fewer are available on the market with each passing year.
Determining The Value of a Walking Liberty Half Dollar
Determining the ballpark price of a Walking Liberty Half Dollar is relatively simple when you consider the key factors of valuation. Of foremost importance to collectors is the coin's condition. As you might expect, coins that have been carefully preserved command the highest premiums. These highly collectible coins can range in value from around $10 to many thousands of dollars.
While condition plays a role in determining the price of a Walking Liberty, the year of mintage and the type of coin also help determine price. It is important to remember there were up to three different types of Walking Liberties produced every year, so coins that share the same date may have disparate values based on their type.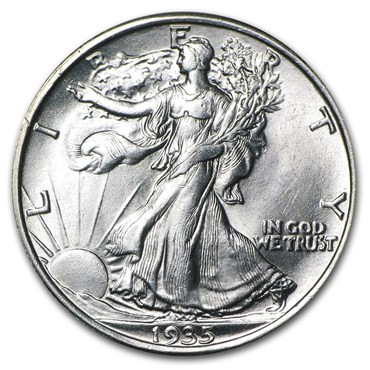 What Are The Most Valuable Walking Liberty Half Dollars
In this series, the older the coin, the more valuable. Coins from the 1910s and 1920s are more alluring to collectors simply because they are older and naturally a bit more difficult to locate and obtain. As always, well-preserved specimens are widely sought.
Collectors especially enjoy showing off a 90-year-old coin that looks as pristine and lustrous as one that just came out of a mint box. Beyond those special early coins, condition is the key factor. Coins that were in general circulation and carefully preserved are less abundant than many collectors would hope.
Values of Walking Liberty Half Dollars
The Walking Liberty has growth potential over the long term, but there is no way to accurately assess what its value might be at any given point in time. What we can know, however, is that scarcity will drive the value of the Walking Liberty Half Dollar as it does all coins. If you are serious about adding one of these beautiful and meaningful coins to your collection, now is the time.


Key Dates of Walking Liberty Half Dollars
When determining the value of your coin, it is essential to be aware of several key dates. 1916 was the very first year this series was minted, which makes it one of the most critical key dates. Examples from this period are very had to come by, and much sought after. Coins minted for the 1917 series carry "D" and "S" mintmarks on the obverse. Other key dates include 1921 coins minted in Denver and San Francisco. The Denver mint also produced a series of half dollars with the Liberty design in 1938, which remains one of the most popular years for this series among collectors. Other key dates include:
1916
1916-D
1916-S
1917-D Obverse
1917-S Obverse
1921
1921-D
1921-S