APMEX Customer Testimonials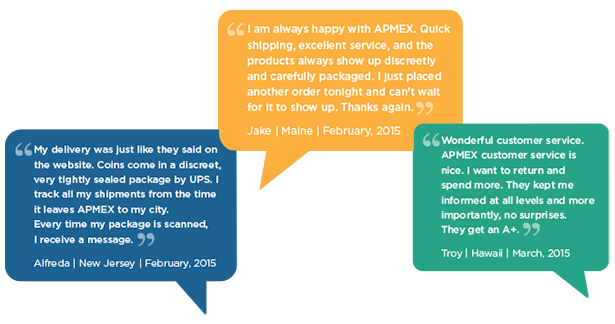 APMEX is great, started investing a few weeks ago in bullion. Literally stumbled upon APMEX on a search engine, having no knowledge of any sources of bullion. Found APMEX first and decided to purchase two 1 Oz. Silver Eagles and let me say, APMEX has exceptional customer service as well as products. They really put care into handing the precious metals and insuring it makes it to your door the correct way. 100% satisfied so far, believe I'm up to 5 separate purchases now and will continue to stay loyal to APMEX if they continue to carry out their business in this high quality fashion. At the end of the day it's bullion, but it's very important to make sure you know the people you're buying it from, as demonstrated in a local coin and collectible shop but that's a story for another time. In conclusion, go APMEX, you rock.
Wonderful customer service. APMEX customer service is nice. I want to return and spend more. They kept me informed at all levels and more importantly no surprises. They get an A+.
APMEX has proven itself to me time after time with prompt delivery and their interest in satisfying me as a consumer. I am certain I come in toward the bottom of the list of spending, but even for 1 one gram silver bar, APMEX provides he best in service, including phone support.
Quick delivery item arrived in good condition and was exactly as described!
Delivery with APMEX is so fast and so it should be when you're dealing with precious metals, I usually receive my order @my door in two days and I love the free shipping on orders of $100's or more. I can't speak on customer service because I have yet to have a bad experience with APMEX but if it's anything like their delivery and quality of product then I have nothing to fear, I'm in good hands.
APMEX offers unique items along with very competitive pricing on the standard rounds and bars. All products arrive well packed and in excellent condition. They even included a free guide to precious metal investments. I enjoy checking out the assortment of metals and paper currency they have to offer. APMEX is much more than a "click and buy" store.
Turnaround time from date of order until delivery was exceptionally quick. Package labeling was private, and packaging was excellent, all items are well secured and safe for transport.
I am always happy with APMEX quick shipping excellent service and the products always show up discreet and carefully packaged. I just placed another order tonight can't wait for it to show up. Thanks again.
My delivery was just like they said on the website. Coins come in a discreet, very tightly sealed package by UPS. I track all my shipments from the time it leaves APMEX to my city. Every time my package is scanned, I receive a message.
I paid by check so they need 5-10 days to clear it. On the sixth day I received an email notifying me my package had been shipped. Three days later it's at my door (standard shipping). My items were packaged well and the box received no damage at all. You can tell this is a quality company that aims for 100 percent satisfaction. Bravo APMEX.
As always exceptional packaging. The USPS managed to take forever to deliver these (misdirecting this package twice on the way), but when I contacted APMEX customer service about the problem, they were extremely polite and helpful.
APMEX customer service and shipping are outstanding. Each time I place an order the next day it is ready to ship. A few hours later the tracking info comes over to my email and takes about 3 days until I receive the product. All products arrive in perfect condition each sealed in plastic bag. Great Job APMEX! I will continue to buy only from this seller.
Came a day early! Very quick shipping and with the free shipping option I never have seen before APMEX's delivery was amazing!
As always, delivery was prompt, and secure and discreet & in excellent condition. The way APMEX packages their parcels ensures safe delivery. I don't worry when I order from APMEX.
Prompt shipping arrived exactly when they said it would (and we live in a remote area where we're used to delays.) Very nice box, packing, papers, etc. compared to other sellers that cost more.
As always APMEX shipped the coins in a virtually indestructible package. The coins were placed in individual plastic flips. Then APMEX placed the coins in a bubble-wrap bag - securely sealed shut. Then, with what must be the strongest glue on Earth, the bag itself is glued to the inside of the package so it doesn't thrash and crash around inside the package. The packaging is totally discrete, and it always arrives on time or even quicker. I don't worry when it comes to ordering from APMEX.
I have ordered over six times through APMEX. Always delivered on time, this website and the people behind it can be trusted.
Just wanted to call and let you know how much I appreciate all your help. I got my refund and decided to go to [a competitor] not for any other reason than they were a little cheaper. I was sooo disappointed with how I was treated, there was no customer service. Wish now I'd never ordered from them.
I just want to say that I have dealt with very few companies that pack and ship as well as your company does…….Thank you very much and keep up the great service.
I recently purchased a few items for my IRA, my IRA rep was very professional and made the transaction painless. She is very much an asset to your company. Great employees make great companies.