APMEX Customer Testimonials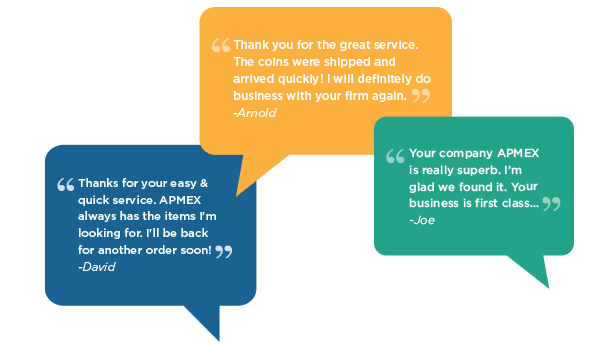 Top notch product and variety. You guys to me are the very best in the industry. Have more sales!
Little details of a Christmas box and adding padding impressed me for my first purchase from APMEX. Speedy processing and delivery before Thanksgiving was great. Will definitely look to APMEX for further purchases.
Yes, in my opinion this is the best company I have tried so far.
First time I ordered from APMEX and was very satisfied with the service.
My experience with APMEX was my first in purchasing precious metals and we will be doing this again soon. Thank you.
Wonderful product wonderful fast delivery.
You made it easy for a first time buyer, second order processed even faster.
I plan on purchasing again from you. Thank you.
Your packaging and shipping department is to be highly commended for their excellent work. I am impressed by the fast turn around on in stock items. Good job everyone.
Was packed super nice. I was very happy and I will order from APMEX again soon, thans so much.
Look forward to a continued good relationship I see no reason to go anywhere else for the service you provide.
Yes. Perfect items. A company I can trust, seriously great.
I was very pleased with my purchase and my buying experience. If you have what I'm looking for and the price is right you can expect more of my business.
For the last 16 uears I have been giving my grandchildren a silver dollar for Christmas. I now have 9 of them and your service has by far been the most satisfying from any other supplier. This is the third year in a row I have used APMEX.
Looking forward to the next investment.
I enjoyed buying from you all! Great, fast service.
APMEX is very convenient way to purchase precious metals. The pricing on the metals is very fair. I lookforward to purchasing from APMEX in the future.
I really like how you package items.
My wife loved her silver for the 25th anniversary gift. Thanks for making it all happen like it was supposed to.
I'm very satisfied with my order. It looks very good and the quality is superb. I wish I started investing with APMEX long time ago.